Overview
Plantar fasciitis is characterized by stiffness and inflammation of the main fascia (fibrous connective [ligament-like] tissue) on the bottom of the foot. It is occasionally associated with a bone spur on the heel. Occasionally there may be a partial or complete tear of the fascia of the bottom of the foot. Bone spurs themselves usually do not cause symptoms.
Causes
Plantar Fasciitis is caused by abnormal pronation of the foot. Contributing factors are obesity, weight gain, jobs that require a lot of walking or standing on hard surfaces, badly worn shoes with little support, and also inactivity. As a result of over-pronation, with every step the Plantar Fascia (band of tissue under the foot) is being stretched, resulting in inflammation, irritation and pain at the attachment of the fascia into the heel bone. In some cases the pain is felt under the foot, in the arch. Continuous pulling of the fascia at the heel bone, eventually may lead to the development of bony growth on the heel. This is called a heel spur. When you're at rest, such as while sleeping, the Plantar Fascia tightens and shortens. When body weight is rapidly applied to the foot, the Fascia must stretch and quickly lengthen, causing micro-tears in the Fascia. As a result, the foot pain is more severe with your first steps in the morning, or after sitting for a long period. Plantar Fasciitis is more likely to happen if you suffer from over-pronation (flattening of the arch), you stand or walk on hard surfaces, for long periods, you are overweight or pregnant, you have tight calf muscles.
Symptoms
Most people with plantar fasciitis have pain when they take their first steps after they get out of bed or sit for a long time. You may have less stiffness and pain after you take a few steps. But your foot may hurt more as the day goes on. It may hurt the most when you climb stairs or after you stand for a long time. If you have foot pain at night, you may have a different problem, such as arthritis, or a nerve problem such as tarsal tunnel syndrome.
Diagnosis
Physical examination is the best way to determine if you have plantar fasciitis. Your doctor examines the affected area to determine if plantar fasciitis is the cause of your pain. The doctor may also examine you while you are sitting, standing, and walking. It is important to discuss your daily routine with your doctor. An occupation in which you stand for long periods of time may cause plantar fasciitis. An X-ray may reveal a heel spur. The actual heel spur is not painful. The presence of a heel spur suggests that the plantar fascia has been pulled and stretched excessively for a long period of time, sometimes months or years. If you have plantar fasciitis, you may or may not have a heel spur. Even if your plantar fasciitis becomes less bothersome, the heel spur will remain.
Non Surgical Treatment
Your health care provider will often recommend these steps first Acetaminophen (Tylenol) or ibuprofen (Advil, Motrin) to reduce pain and inflammation. Heel and foot stretching exercises. Night splints to wear while sleeping to stretch the foot. Resting as much as possible for at least a week. Wearing shoes with good support and cushions. Other steps to relieve pain include aply ice to the painful area. Do this at least twice a day for 10 - 15 minutes, more often in the first couple of days. Try wearing a heel cup, felt pads in the heel area, or shoe inserts. Use night splints to stretch the injured fascia and allow it to heal. If these treatments do not work, your health care provider may recommend waring a boot cast, which looks like a ski boot, for 3 - 6 weeks. It can be removed for bathing. Custom-made shoe inserts (orthotics). Steroid shots or injections into the heel. Smetimes, foot surgery is needed.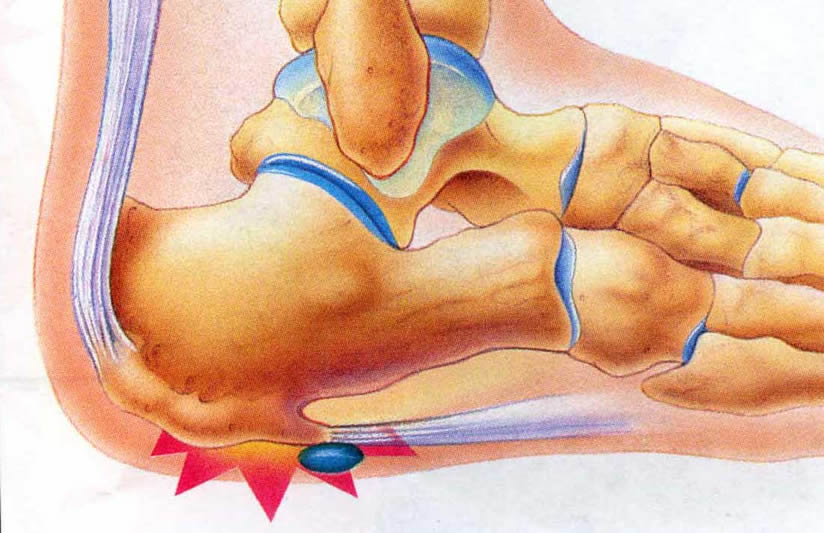 Surgical Treatment
Surgery is rarely needed in the treatment of plantar fasciitis. The vast majority of patients diagnosed with plantar fasciitis will recover given ample time. With some basic treatment steps, well over 90% of patients will achieve full recovery from symptoms of plantar fasciitis within one year of the onset of treatment. Simple treatments include anti-inflammatory medication, shoe inserts, and stretching exercises. In patients where a good effort with these treatments fails to provide adequate relief, some more aggressive treatments may be attempted. These include cortisone injections or extracorporeal shock wave treatments.
Stretching Exercises
Exercises designed to stretch both your calf muscles and your plantar fascia (the band of tissue that runs under the sole of your foot) should help relieve pain and improve flexibility in the affected foot. A number of stretching exercises are described below. It's usually recommended that you do the exercises on both legs, even if only one of your heels is affected by pain. This will improve your balance and stability, and help relieve heel pain. Towel stretches. Keep a long towel beside your bed. Before you get out of bed in the morning, loop the towel around your foot and use it to pull your toes towards your body, while keeping your knee straight. Repeat three times on each foot. Wall stretches. Place both hands on a wall at shoulder height, with one of your feet in front of the other. The front foot should be about 30cm (12 inches) away from the wall. With your front knee bent and your back leg straight, lean towards the wall until you feel a tightening in the calf muscles of your back leg. Then relax. Repeat this exercise 10 times before switching legs and repeating the cycle. You should practise wall stretches twice a day. Stair stretches. Stand on a step of your stairs facing upstairs, using your banister for support. Your feet should be slightly apart, with your heels hanging off the back of the step. Lower your heels until you feel a tightening in your calves. Hold this position for about 40 seconds, before raising your heels back to the starting position. Repeat this procedure six times, at least twice a day. Chair stretches. Sit on a chair, with your knees bent at right angles. Turn your feet sideways so your heels are touching and your toes are pointing in opposite directions. Lift the toes of the affected foot upwards, while keeping the heel firmly on the floor. You should feel your calf muscles and Achilles tendon (the band of tissue that connects your heel bone to your calf muscle) tighten. Hold this position for several seconds and then relax. Repeat this procedure 10 times, five to six times a day. Dynamic stretches. While seated, roll the arch of your foot (the curved bottom part of the foot between your toes and heel) over a round object, such as a rolling pin, tennis ball or drinks can. Some people find that using a chilled can from their fridge has the added benefit of helping to relieve pain. Move your foot and ankle in all directions over the object for several minutes. Repeat the exercise twice a day.